Special Thanks to our League guests for taking the time to chat with the Circles team and listen to some of our ideas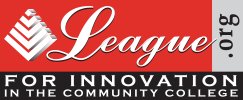 . The Circles team was honored to have been named to the 2014 Innovation Awards, and we were equally happy to share today what we have been working on since then. We hope you enjoyed what we had to share, and in true Circles tradition, here the outsourced memory for our session.
For those Circles fans reading this who haven't had a chance to check out the League's new website, click here or on the image above.
History & Context
When we started Circles, we wanted to:
Continue Facilitating Colleague to Colleague
Shop Talk
Identify and Connect with the ? Faculty
Tap into a new Drive to motivate innovation in the classroom –
Behavioral Economics – Rule of Reciprocity
Brain Theory – Visual Learning
Gamification/Fun Theory
Connect the currently active & ? faculty in new ways
Identify Mavens/Tastemakers/Connectors
Showcase their work
Promote/Stimulate/Share R&D and
Educational Hacking
Disrupt Campus/Discipline/Digital Silos
Share Findings/Content in the Open
Allow for Digital Feeds, a F2F Test Space, and Pushed Content
Communicate via Non-Traditional Channels
Build in the Freedom to Fail
The Website
Communication Portal/Information Nexus
Needed to be Crowd Sourced
Would Store Outsourced Memory
Promoted Virality
Showcased Talent
Consider Learning Preferences
What's a Circle?
Catalog Description –
Premail –
Sparks –
Guiding Questions –
Bricks – (e.g. Post-Its in the classroom)
Clicks – (e.g. Virtual Post-Its with Linoit or Padlet)
Infographics – Shared Visuals (Brain Rules Image of recall)
Good Reads – Further Reading (Deep Diving – Link to Brain Rules)
Related Library/Campus Connects/Resources – (eg.Google Scholar demo)
Related Courses/Center Connections –
The Fellows
Engage in informal mentoring
Facilitate PD courses (Circles)
Build connections with faculty and provide resources
Share tools help improve student learning
Share resources: bricks and clicks to faculty outside of Circle
Highlight not only the innovation but also the practical use of tools